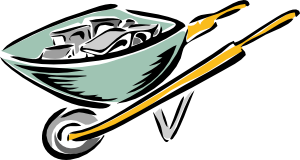 Cyprus Problem | TRNC Finance Minister Rejects 'Black' Money From South
According to the Star Kibris newspaper (18.03.13) the TRNC Finance Minister Ersin Tatar stated on Ada television that he had given instructions for preventing the flow of black money from the south. Of, course he said, legal money would be welcome.
Call me stupid, I'm sure NCFP readers have been doing that for years, but how do you tell the difference, especially if the money has been pushed through the crossing in a wheel barrow?