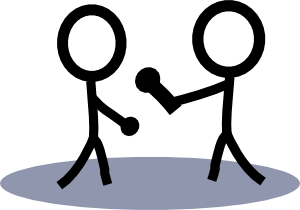 WITHOUT PREJUDICE
Cyprus Law – Akfinans Bank Punch up in the TV Studio and On Air
Reports are coming in of very unbecoming behaviour from two of the owners of Akfinans Bank Limited.
Last night during the airing of a programme on AS TV about the trouble caused by Akfinans Bank Limited, allegedly, two of the Directors Ertug and Mehmet Kader attacked the reporters on air. A camera man who was attempting to film the fracas was also allegedly injured during the attack. The police were called and took statements although I wonder which bin they will end up in. Temper temper……
The cause of the attack is said to be a telephone call taken on air from a viewer who had less than complimentary things to say about the Bank. They do not take criticism too well, now do they?
This was reported in the online newspaper, so I guess Mr Kursat is busily preparing the Writ as I write this. Seems they are about to be one of the many recipients of Libel Writs. I know of 18 but there are sure to be more.
Never give in never give up
Pauline Read
Source: www.kibristime.com/kibris/as-tvyi-bastilar-h29723.html