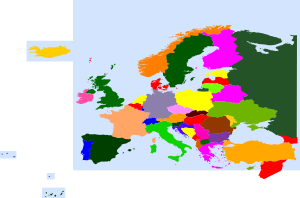 Pauline's Adventures – Exploring Europe
I have been retired for 21 years. I know that should make me 85 years old but it doesn't. Ill health forced me to retire early and fortunately I was in a position to be able to afford to if I was careful.
I had already purchased a villa in south Cyprus back in 1987 and the doctors told me the air quality would be good for my damaged lungs, so the move was an obvious choice. In March 1993 we made the move.
It was very strange, for the first two years I was so home sick and kept travelling back to the UK. That was a mistake, the more trips I made, the more home sick I became on my return to Cyprus. I did however become much healthier and stronger and my lungs gave me little or no problems.
In 1998, we sold up and returned to the UK. During the time we lived in south Cyprus we travelled by ferry and car to the UK nine times and during these trips saw a lot of Europe. I remember on one of these trips we took nine weeks from Limassol to the UK and never slept in the same town two nights running. Such an adventure. We would wake up each morning and use the 'pin on the map' method to decide where to head for. We even ended up in Spain on the Portuguese border.
We stayed in the UK from October 1998 until May 2006 when we settled in north Cyprus. The story of that 'mistake' is well documented. We did however arrive in north Cyprus by ferry and road, and did that trip three times. Again such an adventure. The one note worthy thing about living in north Cyprus, I never was homesick.
So here we are in good old UK again waiting for Agile to be repaired. Is this our final destination, oh I would not put good money on that one, my feet are beginning to itch again and so are Agile's. Will we return to north Cyprus and rent, will we travel across Europe and keep a base in Europe, will we just become gypsies? Who knows, but isn't it wonderful to have so many options. The world as they say, is our oyster.
Never give in never give up.