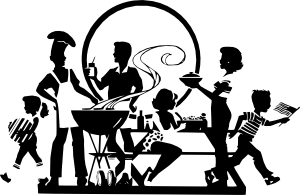 WITHOUT PREJUDICE
North Cyprus Property | Chilling Out Before the Challenge
Today I am going to relax, chill out and attend the BBQ at Oris Barcafe. Because of the problems and the time spent on them I often find it hard to relax and just unwind. Today Agile and I are going to do just that in the company of a very good friend.
Next week is a busy court week for me yet again.
On Wednesday 24th April I will be appearing at Girne District court with Hak, another date with the Judge about my 5th Libel case. This one is the Ada TV one. As I have said before, how can this be heard before the Kulaksiz 5 case outcome is known. It could prejudice the K5 case, in my opinion, whichever way the Judge finds.
On Thursday 25th April I am at the High Court, also with Hak, but at this stage I am unable to discuss this case. I was meant to be accompanying a friend and lending support to them with their Girne District Court case on the same day. We will rush back to Girne to try to be with them if the High Court appearance finishes early enough. Since we are intending to be in Lefkosa at the High Court by 8.30 am, I am hopeful of being there at Girne District Court for my friends. Who knows, it is something that is beyond my control.
There is a long hiatus for the Kulaksiz 5 case since the next appearance is not until Wednesday 15th May at 10.30 am. This could again be another adjournment as papers from the other side detailing their objections to our amendment had not been filed. As has been observed in the comments section of NCFP, we are heading towards the court's summer recess so the probability of this case being finished. With the Appeals that will inevitably follow the case could realistically be running well into 2015. I wonder how many of us will live to see the 'THE END' of this case? The bank winning by default because all the petitioners did not survive could be be a novel outcome. I hope I am joking.
Never give in never give up
Pauline Read